Felix's Christmas mitzvah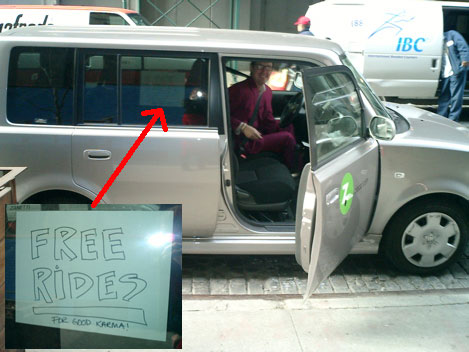 Yesterday I rented a Zipcar for seven hours, and drove around Manhattan offering rides to people inconvenienced by the transit strike.

1:30pm: I set out from home, in my suit and cap.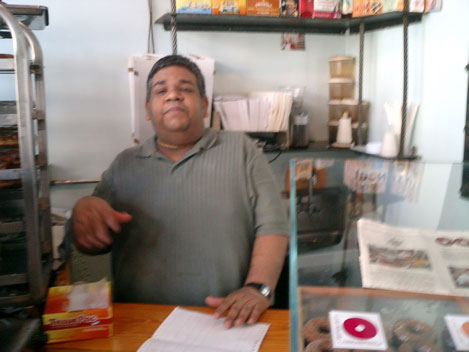 1:45pm: I fuel up at the Doughnut Plant.
2:00pm: I pick up the car from the garage at Monroe and Allen.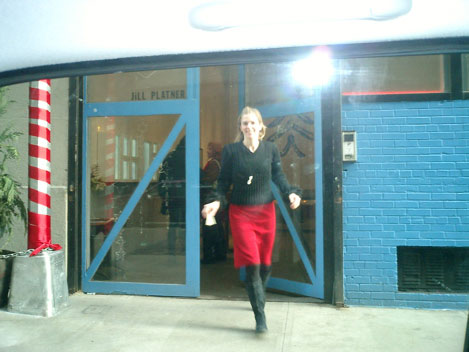 2:19pm: I arrive at Jill Platner, on Crosby Street, where I'm met by Michelle.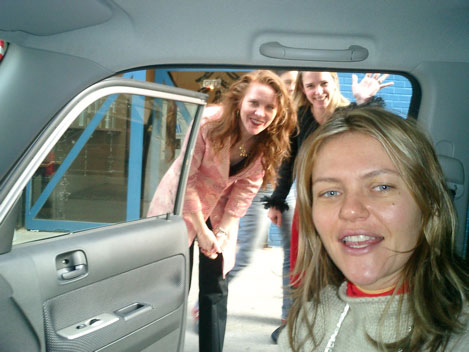 2:22pm: Jill, her sister Delphine, and Michelle send me off with my first mission: to deliver an envelope to Kira Sugarman.

2:25pm: Michelle installs the Free Rides sign, and I set off.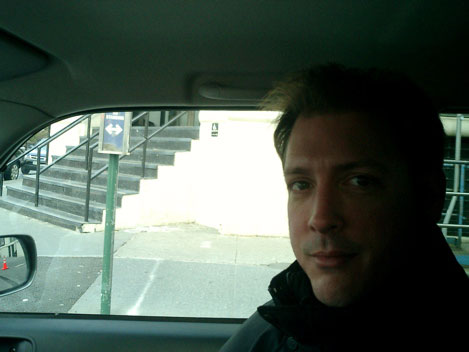 2:30pm: I pick up JC on Houston between Broadway and Mercer. He's running late on a project he's been editing for the Food Network, at 15th and 9th.
2:40pm: I get a call from my friend Abby Russell, who is downtown and needs a lift. I tell her I'll get over to pick her up at Astor Place once I've dropped off JC and Kira's envelope.
2:54pm: I drop off JC on 15th and 8th, so that I can make it over to Kira more easily than if I'd gone all the way over to 9th.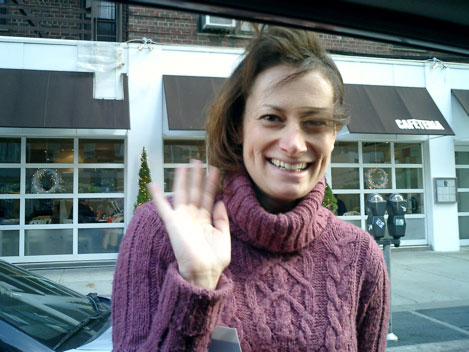 3:07pm: I give Kira her envelope on the corner of 17th and 7th.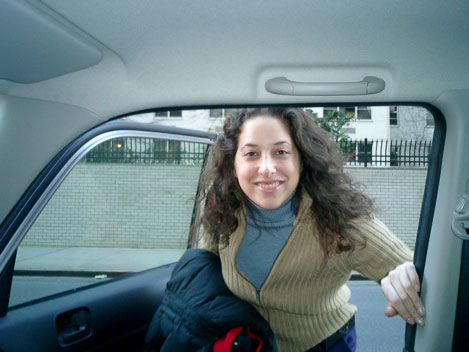 3:20pm: I pick up Abby Russell on 9th Street between 4th and Broadway, where she's been working on a project for MTV. She, too, has something she needs to drop off at the Food Network.
3:55pm: We've made it to the Food Network, on 15th and 9th. But Abby needs to get uptown...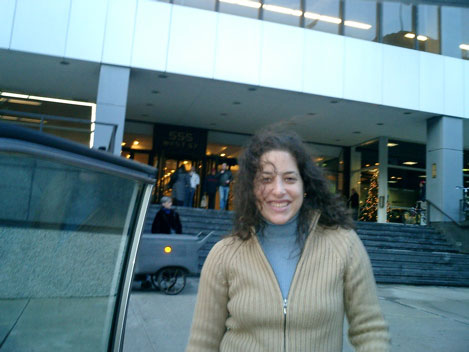 4:20pm: I drop off Abby Russell at CBS on 57th and 11th. Now I need to head downtown, since a couple of Jill Platner employees need a lift at 5:30. Can I make it? 11th Avenue is packed, so I wend my way south and east, eventually going up 46th Street to Times Square. I ask many people if they need a lift, but none of them do: One of them simply says "no, there's too much traffic!". I discover it's very hard to drive in New York traffic and ask people if they need a lift at the same time. In any case, it's getting late, so eventually I decide to simply make it down to Crosby Street as fast as possible. It's not fast enough, and while I'm stuck in traffic on Broadway, Katherine and Olivia from Jill Platner stop waiting for me and start walking up towards me.
5:45pm: I meet Katherine and Olivia at Broadway and Great Jones. First stop is Penn Station, for Katherine: she's taking the Acela up to Boston for Christmas. But 6th Avenue is packed, 8th Avenue is worse, and eventually she gets out at 15th and 8th, deciding it will be easier and faster to walk. Olivia and I then head west: she's going uptown to 101st Street and Central Park West. The West Side Highway southbound simply isn't moving at all, from 14th Street all the way up to 96th Street. But northbound is OK.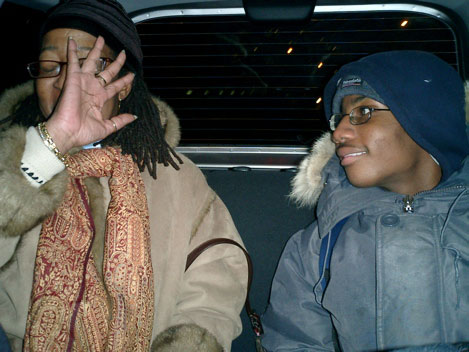 6:35pm: Olivia and I pick up Lorraine and her son Marqui at 100th and Columbus. Lorraine has picked up Marqui from school and they're now heading home. It's been a long day for Lorraine: she had three doctor's appointments at various points in town, as far south as 31st Street.
6:40pm: Drop off Olivia at 100th and Central Park West, just in time to pick up her laundry at the laundromat, which is closing early.
6:45pm: Drop off Lorraine and Marqui at 116th and 7th. Head downtown to pick up Simon Clark at his office in the financial district. Columbus Avenue is quite fast, and 11th Avenue starts off OK, but becomes solid around 29th Street. All the southbound avenues are nasty, and it takes a long time to get downtown from there.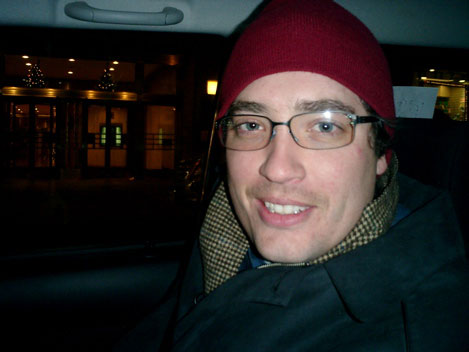 7:58pm: Finally reach Cortland Street, where I pick up Simon, and his colleague Carla. Simon is my only passenger all day who has accepted my offer of a doughnut.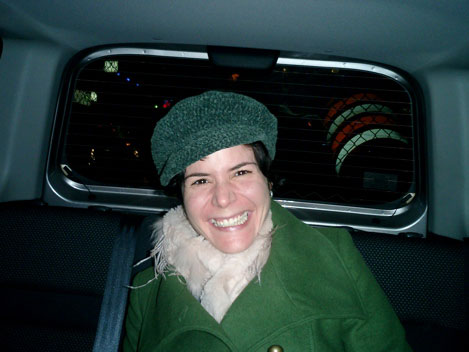 8:05pm: Drop off Carla on 5th Street between Avenue A and Avenue B.
8:35pm: Drop the Zipcar back off at the garage, after taking a much longer but much faster route to get there, via Avenue D and Madison Street. All the other streets are packed with traffic for either the Williamsburg Bridge or the Manhattan Bridge. Walk home for a large glass of Scotch, and some holiday parties conveniently located in my apartment building.